Mekira


Vital statistics
Title
Fake Mekira
Gender
Male
Race
Human
Faction
Junishinsho
Health
Healthy
Level
Skilled in Spear fighting (he is also able to create Illusions)
Status
Deceased
Location
Aokigahara Forest
Known also as
Giaguar
, he is a member of
Junishinsho
.
Personality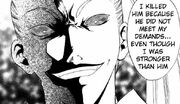 He is cruel and evil (he killed his master because he would not teach Mekira the school secrets).
Story
He learned the ways of 
Shikage-ryū
alongside
Benitora (Red Tiger)
 sometime in the past.
Mekira killed his master because he would not teach Mekira the school secrets.
Once he became Jūnishinshō, he faced Benitora in Aokigahara and was killed after Benitora realized the power of the Shinkage, ripping out half of Mekira's stomach.
Techniques
He wields a large scythe.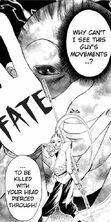 Shinbyeong also known as Illusionism is the Shikage hidden technique. It is a mental extension of user's spiritual power, creating instant unconsciousness between consciousnesses and disrupting a person's mind and/or thinking ability causing hypnosis and sensory paralysis in their foes, momentarily stunning them and making user's movements appear immediate.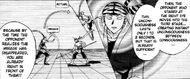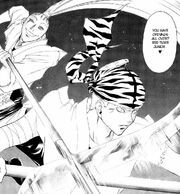 From the view of people who are caught by the technique, they will think user has teleported. All it takes is direct eye contact between user and the target. This technique resembles 
Naruto
's 
Genjutsu
True Mekira



Gender

Male

Race

Mibu

Debut

Volume 23, Chapter 186

Age

No information

Faction

Occupation

Berserker
2) True Mekira
He is a member of Junishinsho.
Appearance
Mekira is a man who has feminine characteristic
Personality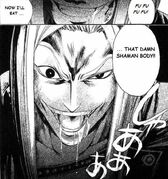 He is a cruel berserker
Story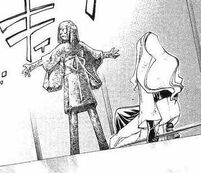 He fights
Akari
, half petrifies 
Yuya Shiina
 and completely petrifies
Santera
.
Death
Irritated by his treatment of Santera, Akari ungloves his/her left hand containing the "True Medusa Eye" and finally defeats Mekira, turning him to dust.
Abilities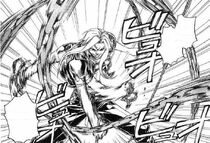 He is an Expert in Fighting with Chains (he wields a Chain as Weapon)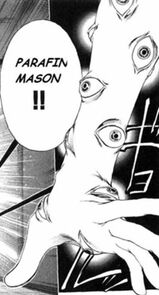 On his left arm are many
Medusa Eyes,
which enable him to
petrify his adversaries
(they are a
duplicate
of the
True Medusa Eyes
). This resembles to 
Danzō Shimura's Sharingan
 from 
Naruto
Gallery
Community content is available under
CC-BY-SA
unless otherwise noted.