Kubira



Gender

Male

Race

Mibu

Debut

Volume 25, Chapter 194

Age

No information

Occupation

Junishinsho, Berserker

Family
A member of
Junishinsho
Appearance
He has a black dress and hat. He has long blond hair linked on a side.
Personality
Although he is a berserker, he loves her daughter (Antera) and when he fights he is loyal to his principles.
Story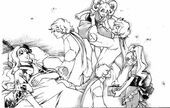 Kubira was the father of Antera.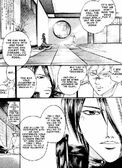 He made a deal with the
Taishirou
to cure Antera's illness. Her illness could not be cured, but it could be "slowed" by returning her body to the age before infection and stopping her aging. Under this deal, the Taishirou made Kubira go "berserk" which made him feel hungry for flesh when he saw someone, even his own daughter. He also had to separate himself from his daughter whose memory was altered to forget him.
Death
Kubira was defeat by Akira and died because he violated his deal with the Taishirou.
Abilities
He could change his body into the form of the one who is most feared/respected by his opponent (this technique is called 
Phenomenon Face
). This ability also made it possible for him to copy the abilities of the person whom he has replicated. He was defeated by Akira even though Kubira
replicated Kyo's true body
.
Gallery
Kubira


Vital statistics
Title
Fake Kubira
Gender
Male
Race
Human
Faction
Junishinsho
Health
Healthy
Level
Skilled in fighting with his "cat-o-nine-tails", Expert in Creating Marionettes/Puppets
Status
Deceased
Location
Aokigahara Forest
2) Fake Kubira
A member of Junishinsho
Personality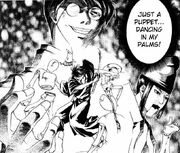 He is very smart. His purpose is using the last effort to archive the maximum result. He is able to identify his opponent's weakness and to expoit it in his advantage
Abilities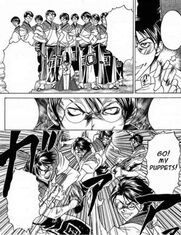 He can
create marionettes
, which copy the abilities of the person who has been replicated, or replicas of himself.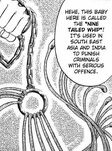 He wields a "
cat-o-nine-tails
", a nine tailed whip complete with needles in the rope side. He was defeated by
Kyoshiro Mibu
and killed by
Akira
. 
Trivia
His skills are basically equivalent to the puppet masters (like Sasori and Kankurō) from Naruto
Gallery
Community content is available under
CC-BY-SA
unless otherwise noted.